Open Singles

1- Jean-François Lemieux
2- John Leys
3- Gilles Demers
4- Luc Legault
5- François Depatie-Pelletier
6- Philippe Lessard
7- Renaud Fanoni
8- Dominic O'Brien
9- Geneviève Bousquet
10-Stéphane Tailleur
11-Maude Landreville
12-Russell Arsenault

Open Doubles

1- John Leys/ Emmanuel Bouchard
2- François Depatie-Pelletier/ Luc Legault
3- Yves Archambault/ Samuel Cloutier
4- Jean-François Lemieux/ Gilles Demers
5- Dominic O'Brien/ Dominique Soulard
6- Renaud Fanoni/ Martin Côté
7- Philippe Lessard/ Russell Arsenault
7- Pierre-Jacques Daigle/ Stéphane Tailleur
7- Maude Landreville/ Geneviève Bousquet
7- Jean François Bélanger/ Julien Tremblay
7- Félix-Antoine Guérard/ Émilien Gendron

Intermediate Singles

1- Thibault Rehn
2- Julien Tremblay
3- Jean François Bélanger
4- Félix-Antoine Guérard
5- Émilien Gendron

See my blog articles on the Windchill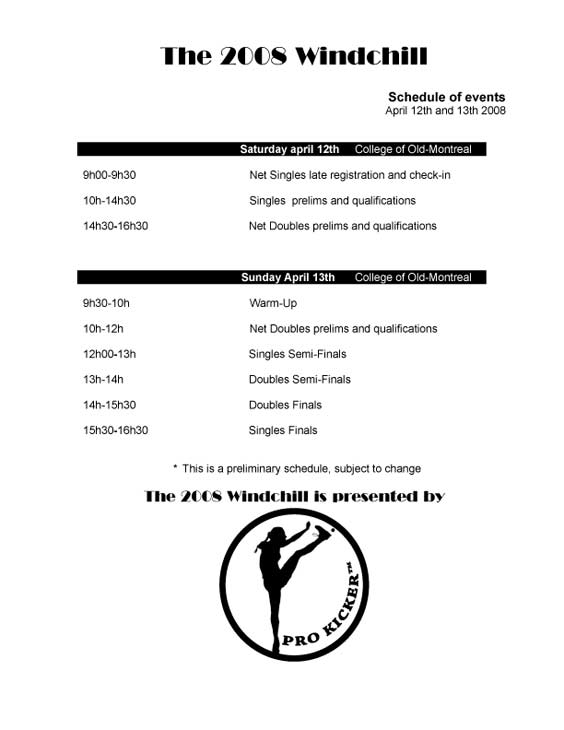 The Windchill was born in 1991 and has been presented every year since the beginning. It's a start of the spring kind of *Footbag Net tournament and it's intended to be a warm-up event for the Footbag season. Don't get me wrong though the Montreal players practice all year round and they are ready to battle it up. Of course as we play Footbag only twice a week in the winter the accuracy might not be the same as it is in the middle of the summer but you can expect some great plays.
The entrance is free for all spectators who want to witness a truly neat alternative sport that is rooted pretty deeply in the Quebec community (In its non competitive form mainly). Take the main entrance of the Cegep of Old Montreal and ask for the Sports complex which is located on the 5th floor
The official Footbag of the Competition will be the Pro Kicker ''Demolition'' 32 pannel Footbag.
* Footbag Net, a name we would like to change to the more descriptive ''Kick Volley'' determination eventually.